Ant-Bee With My Favorite "Vegetables"
& Other Bizarre Muzik
1994 Divine Records 3 (CD/LP) / Electric Yak 3 (cassette)
NO LONGER AVAILABLE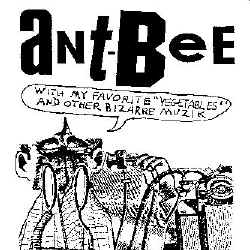 Lunar Egg-Clips Runs Amuck - 3:36 | Sample
The Girl with the Stars in Her Hair - 6:34 | Sample
Motorhead Snorks - Motorhead Speaks (CD/LP only) - 1:05 | Sample
The Live Jam - 14:01 | Sample

Once the Clothers are Off
Stringbeans, Greenbeans + Other Assorted Vegetables
Moonpie - Cooked

Jimmy Carl Black Speakin' At Ya - 1:39 | Sample
In a Star - 3:10 | Sample
Do You Like Worms? - 4:57 | Sample
Bunk Speaks - 2:40 | Sample
Another Gardner Variation (CD/LP only) - 1:16 | Sample
Pachuco Falsetto Laughs (CD/LP only) - 0:12 | Sample
Live at the Trip (cassette only) - Here we Go Round the Lemon Tree, (CD/LP Only) - 3:13 | Sample

The Fungus
Lunar Egg-Clips Walks with the Fungus

Who Slew the Beast? - 6:04 | Sample
Dom Dewild Speaks - 2:25 | Sample
Dom Dewild Tranzforms (Before Your Very Ears) - 1:11 | Sample
Dom Dewild Speaks Again - 1:02 | Sample
Those Who Play
The Ant-Bee: (Billy James) Vocals, Drums, Percussion, Keyboards, Mellotron, Tape Manipulations
Bunk Gardner: Saxes, Snorks, Wheezes, Assorted Screams
Dom Dewild (Don Preston): Keyboards, Vegetables, Assorted Tranzformations
The Indian of the Group (Jimmy Carl Black): Dialogue, "Are You Shaauugg!", Assorted Munchkinizms
Motorhead: (Euclid James Sherwood): Snorks & Dialog
Pachuco Falsetto (Roy Estrada): Bizarre Laughter
Herman Monster (Roy Herman): Guitars and "La-La's" on "Moonpie"
Lunar Egg-Clips (Greg Brosius): Keyboards Run Amuck and Freaky Laughter
Purple Plastic Penguin (Rick Snyder): Bass on "Worms"
The Tragic Sunbeam (Marc Oxindine): Bass, Sulter and Swiss Poverty
The Mod Martian (Rod Martin): Backwards Guitar
Reoccuring Schizms (Scott Renfroe): Assorted Tape Manipulations
Mr. Lambchop (Paul Lamb): Bass, French Horn, Marriage
Mr. Crisp (John Criss): Piano on "Worms"
Disk Information
All Material produced, arranged, & struggled with by Billy James

Al Material written by Billy James © 1991/1992 ANT-BEE Muzik/BMI Except;
Motorhead Snorks - Speaks © 1993 Jimmy Sherwood
Jimmy Carl Black Speakin at Ya © 1993 Jimmy Carl Black
Bunk Speaks 7 A Gardner Variation © 1992/93 Bunk Gardner
Pachuco Falsetto Laughs © 1994 Roy Estrada
Dom Dewild Tranzforms, Speaks, And Speaks Again © 1992/1993 Don Preston
Do You Like Worms © ® 1967 Brian Wilson/Van Dyke Parks - Capitol Records
Here We Go Round the Lemon Tree © ® 1967 Roy Wood - Westminster Music

Recorded on 16 track recorder at DH Studio, North Hollywood, CA 1990 - 1992
Engineer: Scott Kolden
Re-Edited & Cleaned up at: Sonic Cafe Studio, Charlotte, NC
Engineer: Scott Renfroe
The "Live Jam" recorded on DAT live at Weat LA Studios, West LA, CA, June 1992
Engineer: Dan Simon
"Who Slew the Beast" comprised of 1/2 studio material & 1/2 live material with various tape manipulations.
Produced by Billy James | Engineered by Scott Kolden and Dan Simon
Cover art by Alan McBrayer | Cassette has different song order than CD/LP.